Sharing moments of pure presence
Combining Western psychology with the wisdom of Eastern healing practices and the beauty of music, art & water work
Now is where the magic of life unfolds. Only, when we are truly present, healing and inner change happen.
Born in Germany and now based in Bali, I am creating music, teaching yoga & meditation, as well as offering my unique blend of coaching and healing modalities – working online, in person, 1:1 and in retreat settings.
Using the most effective tools for you to arrive in the here and now – whole and complete.
- PURIFY -
Retreat mit Sonia & Hanna
Komme mit auf unsere Reise nach Bali und endschleunige deinen Alltag. Wohne hautnah an der Natur – am Meer, beim Dschungel und bei den wunderschönen, grünen Reisfeldern und erlebe 14 Tage pure Glückseligkeit. Geniesse eine Abwechslung aus Yoga, Meditation & Pranayama, veganem Essen, Massagen & live Musik.
Das Purify Retreat besteht aus 10 Nächten & 11 Tagen: Die ersten 3 Tage unseres Retreats mit Sonia & Hanna werden wir am Meer in Candidasa verbringen und danach ins Herzen Balis, nach Ubud reisen. Dort werden wir weitere 7 Nächte/ 8 Tage tiefer in das Thema "PURIFICATION – Reinigung im Inneren, wie im Aussen" eintauchen. 
 Danach hast du die Wahl, an 2 Tagen Post Retreat mit Wasser-Reinigungszeremonie teilzunehmen, sowie danach 2 weitere Tage Erkundung des Nordens der Insel & Dolphin Watching zu erleben.
Blossom and grow in your own pace and way. A 21 day journey to connect to yourself through chanting, Yoga, writing & more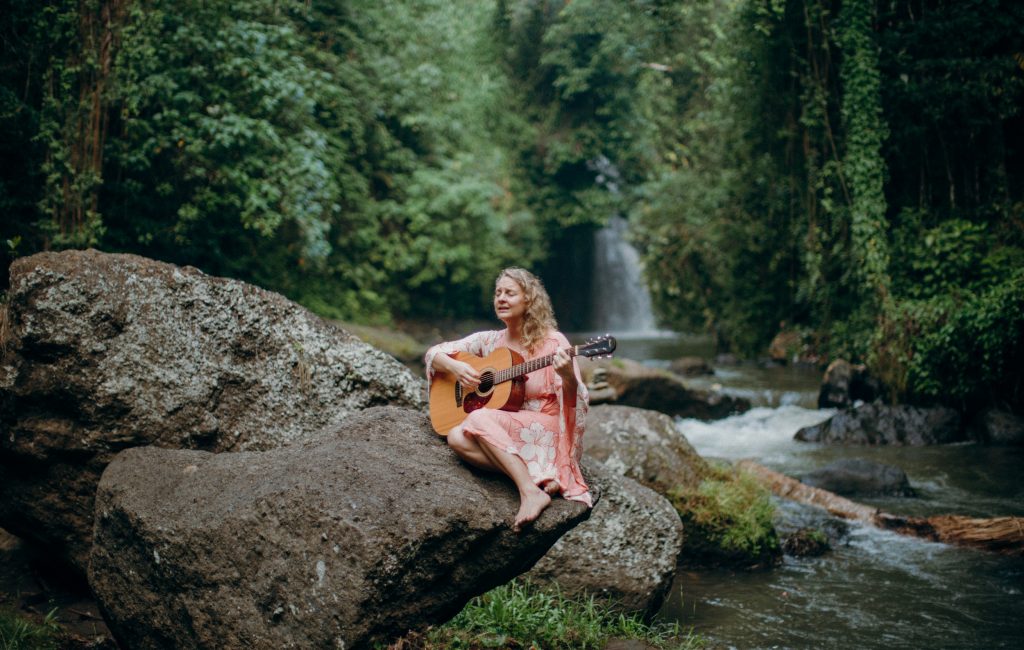 An online course designed to dive deep into your heart's desires:
Taking first steps & actions to nurture the seeds of your dreams with the tools of chanting mantra, meditation, yoga & rituals.
Using these tools to create a new beginning. A chapter with a new energy, more joy, love and more. Making time to reflect & using the space to just be. Learning self-empowering tools & rituals to create a little bit of magic in your everyday life. Blossoming into the best version of yourself.  
"Choose what makes your heart bloom !
What I do & why I do it ...
Years ago, I had the dream to find alternative ways to support & empower others in their healing process. A way that is effective and yet also enjoyable & inspiring.
From my own experience, I know that embracing inner & outer change is not a one off situation, but a way of navigating through life.
My goal is to support you, empower you and share those practices, tools & insights that really work and are easy to apply yourself. 
A big part of this, is to go to the bottom of things – to shift something deeper inside. Transmuting all resistance into the fuel for real change.
Over the years, I have worked with so many different clients, in many different countries. My number one priority is to tailor my approach to the current need. Working not only holistically in terms of body, mind & soul – but also considering all the different building blocks & areas of life.
Book your session with Hanna...
I LOVE MY VOICE - VOCAL FREE FLOW
Vocal Free Flow Sessions offer a space for you to explore your voice, in connection with your heart and emotional state of being.

Singing from a place of self love and acceptance, unlocks not only the healing powers of our voice for ourselves, but can also liberate others.
Let yourself be free and explore in a light & playful way the range and pitch of your voice, emotional responses to certain tones or songs and ultimately how to let yourself shine through the tool of your own voice.
MOVEMENT & STILLNESS - MEDICINE OF THE BODY
Yoga and meditation is a daily medicine. Not only for the body, but for our entire system. Hanna's speciality it to blend the traditional yoga & meditation practices with creative & explorative elements of pilates, fitness & self-reflection.
This way, we can learn how to use movement & mindfulness in order to help us, stay in our center – balanced, grounded & strong.
Knowing how to find that fine line between activating & strengthening the body, and when to rest, meditate and rejuvenate through yin practices, is key. 
Hanna specialises in sharing her wisdom of meditation, yoga & movement with woman. Taking the hormonal cycle and bigger cycles in life into consideration.
Her knowledge of 10+ years of Ashtanga yoga (mysore style & led classes), Yin and Hatha flow, as well as extensive time in meditation & silence bring diversity and depth to her teachings. 
Using sound and psychological tools to reflect, feel and truly embody inner states throughout the practice, is her passion and round up every yoga session with Hanna.
Water as an element nourishes the body, purifies & ultimately sustains all life. Working with water in a healing session, invokes the YIN qualities in ourselves – slowing down, relaxing, deeply letting go.
In a watsu session the pool gets heated to body temperature – offering a womb-like feeling. Free from gravity, you're being floated in the quiet of the water – on the surface as well as under water. Watsu and water dance sessions use a mix of shiatsu, physiotherapy, yoga and pure presence. A unique blend to drop into pure presence & bliss.
The modality of Theta Healing ® makes it possible to upgrade the way we think, feel & act. In the brainwave of theta you can effortlessly release former emotional charges or traumatic responses.
As part of an individual Healing Package, you get to have subsequent theta sessions and follow up calls to implement new routines & ways of being in your life. Leading up to an intuitive 1:1 family soul constellation; understanding and moving beyond ancestral patterns.
A ritual of washing the old away from your energetic system & re-freshing the body to a purer state of being.
Cleaning the physical body as much as the energetic body. Literally washing away which no longer serves. 
NOTE: You can book this purification in person or as remote energetic upgrade – connecting to the ancient water temples and pure waters of the depth of Bali's grounds. 
**The Bali PURIFY RETREAT of cleansing with herbs, yoga & fitness, acupuncture, Reiki & more is happening in 2024!
Join a retreat that is as unique as you are!
Apply now for your personalized retreat! Tailored to your needs and especially organized for you and/or your friends. For more inspiration for destinations and concepts, have a look here…
"I have been having beautiful yoga sessions with Hanna.
She has lots of experience in different yoga types, bodywork and other healing modalities which allows her to tune in and provide a custom offering perfectly suitable for your needs.
Her classes can be very gentle yet they allow you to choose to push your limits and see new possibilities.
"
'Life is music -
That is why our hearts have beats.'
Tiny desk remake concert @Helicon Sound Lab
Land of Hope @ Usada, Bali 2020
Living fully in the HERE and NOW
- ever changing - ever growing - ever shining