Sharing moments of pure presence
Combining Western psychology with the wisdom of Eastern healing practices and the beauty of music & art
Now is where the magic of life unfolds. Only, when we are truly present, healing and inner change happen.
Born in Germany and now based in Bali, I am creating music, teaching yoga & meditation, as well as offering my unique blend of coaching and healing modalities – working online, in person, 1:1 and in retreat settings.
Using the most effective tools for you to arrive in the here and now – whole and complete.
"Choose what makes your heart bloom !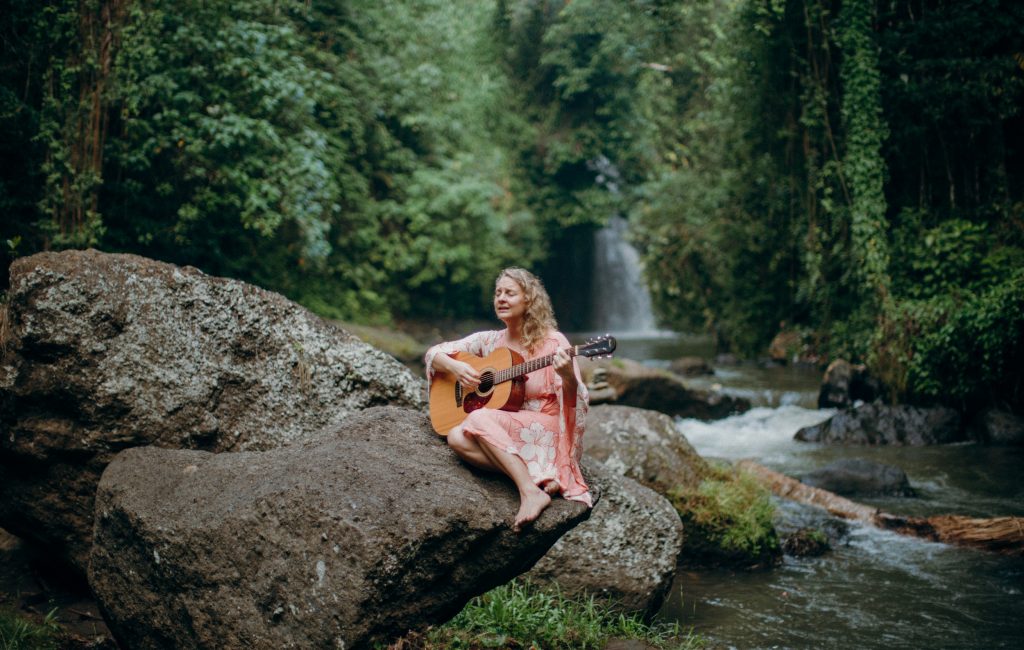 A 21 day online journey to dive deep into your hearts desires & blossom from inside out.
Taking first steps & actions to nurture the seeds of your dreams with the tools of chanting mantra, music & meditation.
Join me on this life transformative journey: Creating rituals, spaces to reflect & time to journal. Learning self-empowering tools & practices to be your own guide and teacher.
Join a retreat that is as unique as you are!
Apply now for your own retreat! Tailored to your needs and especially organized for you and/or your friends. For more inspiration for destinations and concepts, have a look here…
What I do & why I do it ...
Years ago, I had the dream to find alternative ways to support & empower others in their healing process. A way that is effective and yet also enjoyable & inspiring.
From my own experience, I know that embracing inner & outer change is not a one off situation, but a way of navigating through life.
My goal is to support you, empower you and share those practices, tools & insights that really work and are easy to apply yourself. 
A big part of this, is to go to the bottom of things – to shift something deeper inside. Transmuting all resistance into the fuel for real change.
Over the years, I have worked with so many different clients, in many different countries. My number one priority is to tailor my approach to the current need. Working not only holistically in terms of body, mind & soul – but also considering all the different building blocks & areas of life.
Unlike classical singing sessions I offer a space to explore your voice and expression. As singing is not only linked to our musical knowledge and ability, it also very much correlates with our believes' & fears around communicating and our trust and joy for the pure flow of creativity. 
Core values in these sessions are for me to cultivate a state of presence, sensitivity in listening & feeling the sound, as well as creating safety to release stuck energy through your voice. Freeing the voice in a way that is fun and effortless.
YOGA, MEDITATION & MINDFULNESS
Yoga and meditation is my daily medicine. Adjusting intensity, style and routine to the different cycles in life. In this way I also teach very much dependent on the needs & state of my students.
Focussing to support physical, mental & emotional health and well-being. Using the traditional ashtanga (Mysore) method as much as more gentle hatha or yin yoga. Meditation classes or retreats will give you a glimpse into the traditional Vipassana and Buddhist practices, walking practices, sound & chanting meditations and time in silence.
The modality of Theta Healing ® makes it available to look into and change the subconscious: To reprogram not only the believes that aren't serving, but also re-connect them in a way that these changes are lasting and accepted by your system. 
In a healing package we prepare you through a sequence of sessions and follow-up calls to incorporate the inner changes made in daily habits and actions. Leading up to an intuitive family constellation, understanding and moving beyond ancestral patterns in your present life. 
A sound healing session can be a traditional musical journey to meditate and find deep relaxation while receiving the sound and vibrations of Tibetan bowls, chimes, mantras and some of my songs. Infusing the atmosphere with the gentle reiki energy and on request it can be combined with a theta healing journey.
Also you can ask for a privat concert – 1 hour of music, directly to your living room, just for you!
Water itself offers the Yin quality in healing – through the softness and purity of this element our  beings get restored. The water heated to body temperature offers a womb-like feeling.
During a therapeutic water healing session, you get to surrender – being held, gently massaged and moved in the warm water. Free from gravity, in the quiet & peace on and under the water.
"From the beginning I felt a sense of trust in Hanna. Result were not long in coming: She quickly succeeded in noticeably weakening the impact of deep rooted negative beliefs. She has the talent, to speak exactly into what deep inside burdened me."
- let's fully experience each glorious moment